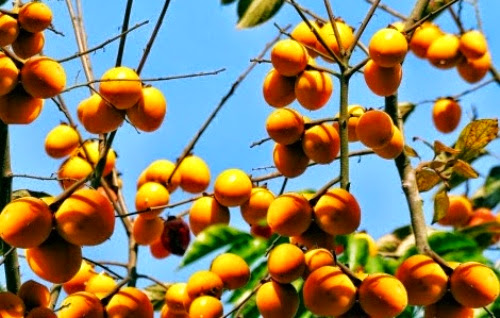 On 05/07/2017 the National Office of Intellectual Property has issued Decision No.2148 /QĐ-SHTT on granting Geographical indication registration certificate No. 00056 for the famous "Quản Bạ" seedless persimmon. Hà Giang Provincial People's Committee is the organization in charge of managing this GI.
Quản Bạ is a district of Đồng Văn Plateau Geopark. The name Quản Bạ reminds people of the Quản Bạ twin mountains with kital beauty life and the famous seedless persimmon fruit, the sweet fruit which has become a special product of Hà Giang Province. "Quản Bạ" seedless persimmon has a long history, with persimmon trees of more than 300 years old still in Nghĩa Thuận commune.
In mid-August of to lunar calendar, Quản Bạ persimmon is given as a gift for friends and relatives, or displayed on five-fruit tray in traditional Lunar Moon Festival. This typical culture has created the value as well as reputation of persimmon which are passed on for hundreds of years till today.
Quản Bạ persimmon is round in shape and glossy yellow in color. There are 20 to 25 fruits per kilogram. The fruit is fragrant with favorable sweetness, is crunchy and rich in sugar particulates. Total sugars level is at 10,25 – 20,23 %, Brix level is at 5,30 – 26,50 %, dry matter is at 20,60 – 30,52 %, tanin level is at 0,14 – 0,48 %, Carotene content ranges from 150,58 – 462,00 mg per 100g.
"Quản Bạ" seedless persimmon's reputation and peculiarity are atttributed to the geographical area which is suitable for the growing of seedless persimmon trees and to the accumulated experience of the people throughout the production process.
The geographical area for growing "Quản Bạ" seedless persimmon has the average altitude of more than 1,000 metre, flat terrain with slopes less than 20o, and thick soil with minimal erosion. Cool climate throughout the year results in high quality, good and stable productivity seedless persimmon. The soil properties of this area is red – yellow ferralitic soils on metamorphosed rock, the soil's mechanical composition is from medium to high amount of silt, soft soil texture, good potential fertility, relatively high total humus content, and good drainage. Total annual average rainfall ranges from 1.200 to 2.100 mm, total annual heat ranges from 5.000 to 6.500oC, annual average temperature is 14 – 18oC. Temperature amplitude between day and night is 8,6 – 9,5oC which is higher than other areas. Annual average humidity is between 81 – 87%. Thanks to these climatic and soil properties, the geographical area is suitable for growing temperate plants, including seedless persimmon.
The experience and technical know-how of the people growing "Quản Bạ" seedless persimmon also play a significant roles in the ever-growing reputation of the product. In addition to the experience accumulated generations to generations, persimmon producers also learn and apply advanced science and technology in selecting the quality breed and multiplying it, garden designing, planting, fertilizing, watering, trimming, anti-pest techniques as well as methods of removing the acerbity taste and conserving the persimmons for high quality reputable products which are trusted by the consumers.
Geographical area consists of: Tam Sơn town, communes of Nghĩa Thuận, Thanh Vân, Bát Đại Sơn and Quản Bạ of Quản Bạ District, Hà Giang Province.
Geographical Indication and International Trademark Division
Source: http://www.noip.gov.vn/web/noip/home/en?proxyUrl=/noip/cms_en.nsf/(agntDisplayContent)?OpenAgent&UNID=DF9F00226589A03C4725818000366E4E