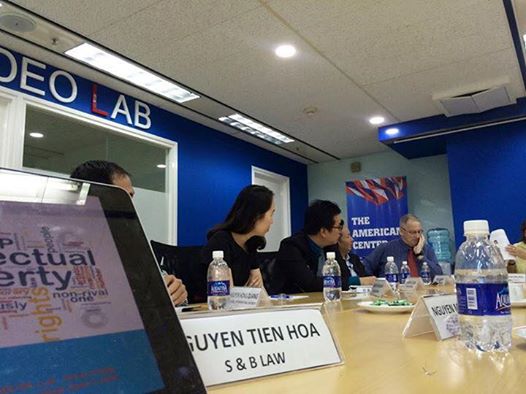 Lawyer Nguyen Tien Hoa, parter of SBLaw has joined the IPR roundtable at American Center, Diamond Plaza, HCMC.
As part of the series of activities to celebrate the 20th anniversary of U.S.-Vietnam diplomatic relations, Associate Justice of the U.S. Supreme Court Ruth Bader Ginsburg has visited Vietnam and accompanied by her daughter, Dr. Jane Ginsburg, a professor at the Columbia University School of Law
IPR roundtable was hosted by the US Consulate General and attended by over 10 IP lawyers and members of the HCMC Intellectual Property Association and Intellectual Asset Management Club. This roundtable provided a forum to talk about recent IPR success stories, challenges, and opportunities for joint collaboration to address IPR enforcement. The United State Patent and Trademark Office's Regional Attaché for Southeast Asia, Peter Fowler, facilitated the roundtable.
After the roundtable, an IP network between participants has been created.
Photo of IPR roundtable